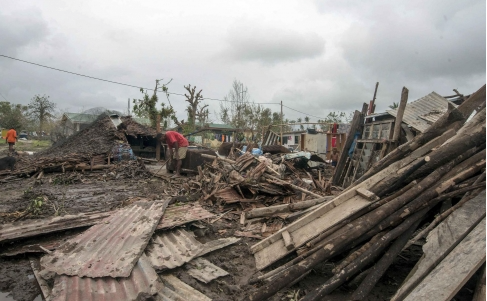 Main photo depicts: Residents moving debris near homes destroyed by cyclone Pam in Port Villa, the capital of Vanuatu. Photo Reuters.
The Pallet Company Hastings Branch to send timber and supplies to Vanuatu
Eddie Crasborn, the Managing Director of Crasborn Group, situated in Hastings, has organised and rallied with their local suppliers and businesses from the Hawkes Bay, to load a container full of useful materials, including blankets, food and other immediate necessities – all to help with supporting Vanuatu in their hour of need. Crasborns, specialising in fruit packing and storage, wanted to show their support for the people of Vanuatu, acknowledging that many of their staff have relatives living through the wake of this recent cyclone.  The Pallet Company – Hawkes Bay/Hastings Branch is one of many businesses in New Zealand providing resource materials to Vanuatu after the destruction of Cyclone Pam.  The Pallet Company, being the largest supplier of wooden pallets and bins to the horticultural industry is set to provide some of the necessary timber to help rebuild homes and the destroyed structures in Port Villa.
The devastation of Cyclone Pam is heartfelt among many, with both New Zealand and Australia sending relief workers immediately to support the people of Vanuatu. Unicef reports over 90% of the structures in Vanuatu have been damaged and over half of the population has been affected.
For more information about Eddie Crasborns container headed for Vanuatu, please call Crasborns on 06 879 9301.
For more information on how you can help the people of Vanuatu, click on the link below:
http://globalnews.ca/news/1885268/cyclone-pam-how-you-can-help-vanuatu-relief-efforts